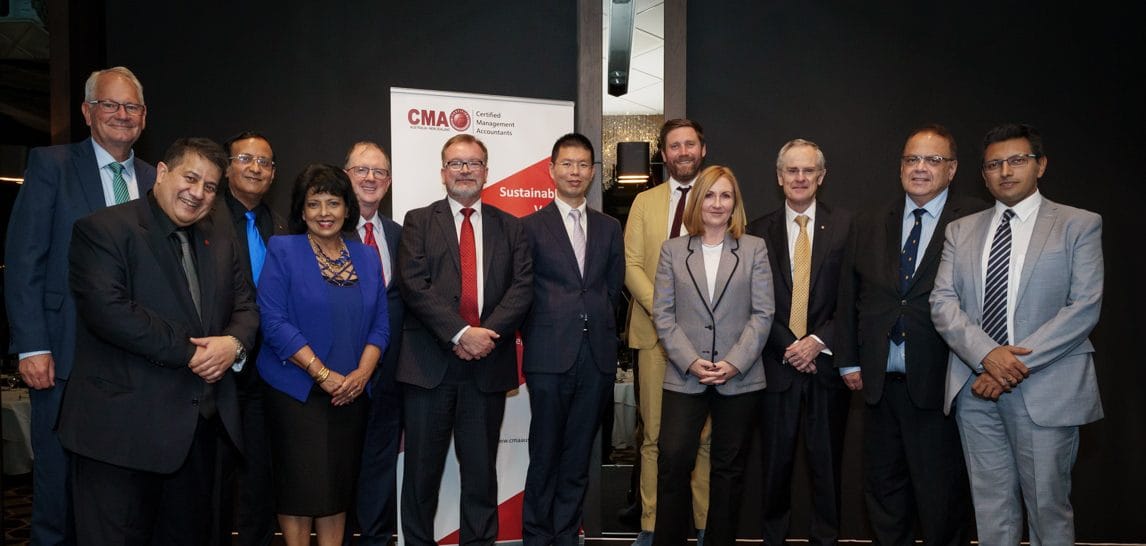 After a lull of two years due to Covid, the Institute of Certified Management Accountants (Australia & New Zealand) celebrated the induction of two outstanding champions into its Global Accounting and Management Accounting Hall of Fame, and launched a new category, 'Social Purpose Innovator Hall of Fame' at an gala dinner held at the RACV Melbourne on 8 November 2022.
Professor Brendan O'Connell, President of ICMA Australia welcomed everybody and said that management accounting has evolved over the years from costing, to providing decision information such as for pricing, to strategy implementation. Now it has gone beyond this to consider the impact of a company's decisions on the environment, society and governance, known today as ESG.
"While the Hall of Fame is intended to honour the people so chosen, it is also a recognition of distinguished contributions in fields encompassing this evolution of management accounting."
Professor Janek Ratnatunga, the CEO of ICMA(ANZ), continued this theme of evolution and said that management accounting must now go beyond just profit and shareholder value and consider societal objectives. He said that companies must not only be legal and ethical but be aware of the social justice implications of their actions.
The Guest of Honour was Ms. Adele Ferguson, the multi-award-winning business writer, columnist and author for leading newspapers, and a regular guest reporter on ABC's Four Corners and 7:30 reports. She was also the Management Accounting Hall of Fame recipient in 2019 for her many exposés including that which brought about a Royal Commission into the banking sector.
Her inspiring talk focused on the difficulties faced by journalists and whistle-blowers in Australia, where the legal system is often used to suppress findings and even issue court orders requiring journalists to submit their findings to be whetted prior to publication.  She also talked about her more recent exposés of the 'Cosmetic Cowboys', and the 'Medicare' fraud where the medical profession was put under the spotlight.
The inductee to the Global Management Accounting Hall of Fame was Professor Rod Sims. He was Australia's principal competition law enforcer and consumer law champion in his former role as the chair of ACCC. His acceptance speech was extremely informative often in a light-hearted way. He said that he has had politicians complaining about price-gouging by companies, but that he has had to tell them that until they pass the laws in Parliament it is not illegal.
The inductee to the Global Accounting Hall of Fame was Mr. Don Rankin one of the founding partners of Pitcher Partners, now Australia's largest "middle market" accounting advisory firm.  He said that there were plenty of entrepreneurs with great ideas, and that with professional advice great companies can emerge. He gave the example of Cotton On, from its first 'shop' in 1988 from the back of a Ford Bronco parked at a Market in Australia to 1,500 stores in 22 countries by the 2020s. Certainly this was proof that 'Big oaks from little acorns grow' – with sound professional help.
The inductee as the inaugural "Social Purpose Innovator recipient was Mr. Simon Griffith, one of the founders of 'Who Gives a Crap' the toilet-paper profit for purpose company, which donates 50% of its profits to water-related charities in developing countries. It was the largest Australia contributor to charities last year, beating Qantas and Coca-Cola. He said that the incredible growth of the company showed that "Doing Good was Good for Business".
Amongst the other inductees from previous years who attended the event were Dr John Miller AO, a Patron of ICMA (ANZ) Mr. John Stanhope AM, the Chancellor of Deakin University, and Dr Samer Shahin, CEO of Peregrine corporation. Also in the audience were senior public servants, professors and senior academics from our major universities, representatives from CAANZ and CPA Australia and many senior business journalists. 
More Images: Click here
For more information, contact:
Prof Janek Ratnatunga
Chief Executive Officer