Graduate Management Accountant (GMA) Program Overview
GMA and AMA MembershipGraduate Management Accountant (GMA) and Associate Management Accountant (AMA) membership can be obtained by completing a degree in accounting or MBA at a recognised university, or by completing the Graduate Program of the ICMA.There are four stages in the Graduate Member programme, each stage requiring the passing of four subjects. A detailed list of the subjects is provided in Figure 2, and Figure 3 below shows the articulation process with each stage leading naturally to the next one, and building on what has been learnt in previous stages. To join as a Graduate Management Accountant (GMA), the student must obtain a degree in any discipline before, during or after the completion of the graduate-level program.Stage 4 of the graduate program consists of the totality of the subjects in the Graduate Conversion Program. These subjects may be undertaken directly (without completing Stage 1 to 3) by holders of degrees or professional qualifications in disciplines other than accounting. These subjects are taught at the honours/masters level.

Students completing the Graduate Member programme become Graduate Members (GMA) of the ICMA, and could apply for Associate membership (AMA) once they have acquired the 3 years experience levels required by the Institute.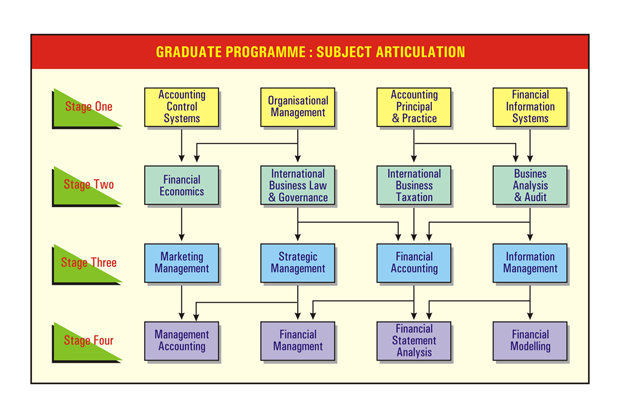 Students who have partially completed programmes at universities, recognised professional bodies and other educational and training establishments may apply for credit, on a subject-by-subject basis. Further, it is one of the objectives of the Institute to accredit Graduate Conversion Programmes offered to non-accountants to convert to accountancy at recognised universities and educational bodies. Holders of Graduate Diplomas in Accounting and above, will be thus eligible for Graduate membership in the Institute.
The Institute's own Graduate Conversion Programme, consists the four subjects of Stage 4 in Figure above, taught at a University 4th Year (Honours/Graduate Diploma) level.
Certified Accounting Technician Program (GMA Program Stage 1)
Registered Cost Accountant Program (GMA Program Stage 2)
Registered Business Accountant (GMA Program Stage 3)
Graduate Conversion Program (GMA Program Stage 4)