These programmes cover the three technician-level qualifications of ICMA:
An overview of the Technician Level programme is illustrated in the following figure.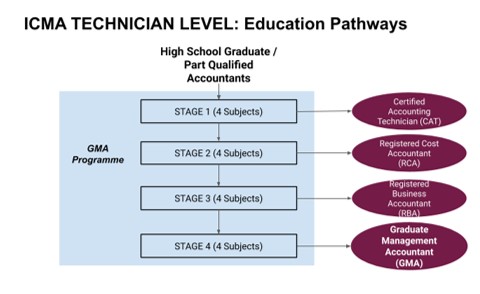 Syllabi
There are 4-Stages in the Technician-Level Programs, consisting of 4-Subjects each as follows:
Stage 1
Organizational Management
Accounting Principles & Practice
Accounting Control Systems
Financial Information Systems
Stage 2
Financial Economics
International Business Law & Governance
Business Analysis & Audit
International Business Taxation
Stage 3
Financial Accounting
Marketing Management
Information Management
Strategic Management
Stage 4
Financial Management
Financial Statement Analysis
Financial Modelling
Managerial Accounting
Entry Requirements
High school graduates with a pass level at a Country (or State) administered university entrance examination (e.g. TER, SAT, IB or 'A' Levels) (or equivalent), may apply to undertake ICMA's Technician-level programmes. Those holding a Graduate Diploma in Accounting are eligible to join at the Registered Cost Accountant (RCA) level and those holding a Postgraduate Diploma in Accounting are eligible to join at the Registered Business Accountant (RBA) level.  Part qualified student members of recognized professional accounting bodies (e.g. CA, CPA, CIMA, ACCA etc.) would also be eligible for this pathway at a suitable entry point as determined by ICMA, based on the percentage of part-completion obtained. To join as a Graduate Management Accountant (GMA), the student must obtain a degree in any discipline after the completion of the graduate-level program.
Practical Experience Requirements
No practical experience is required to obtain membership at any of the stages of the Technician-level programs and for the Graduate Management Accountant (GMA) certification and membership. Note however, a degree (in any discipline) is required for GMA certification.