Students who have partially completed programmes at universities, recognised professional bodies and other educational and training establishments may apply for credit, on a subject-by-subject basis. Further, it is one of the objectives of the Institute to accredit Graduate Conversion Programmes offered to non-accountants to convert to accountancy at recognised universities and educational bodies. Holders of Graduate Diplomas in Accounting and above, will be thus eligible for Graduate membership in the Institute.
Holders of Australian Technical and Further Education (TAFE) Advanced Diplomas in Accounting and part-qualified accountants (i.e. those doing the final stages of CIMA, ACCA final stages, or the final year of university accounting degrees) need to do the full GMA Conversion program (Stage 4) and have a degree in any discipline before, during or after the completion of the graduate-level program.to satisfy the requirements of Graduate Membership (GMA status).
All Graduate members can apply for Associate membership (AMA) if they possess 3 years of relevant professional experience.All Graduates and Associates (and those exempted from the Graduate Membership level examinations) must, however, complete the two-unit "CMA Programme" (as shown in figure below) and have 5 years of relevant professional experience, in order to fulfil the requirements of a Certified Management Accountant (CMA).
MBA, CMA Dual Qualification
A number of universities around the world now have joint program designed around the following core components :
The MBA Program
Many such university programs have core units and electives. The Certified Management Accountant (CMA) program can dovetail to this structure, such that those with an accounting background can obtain CMA certification undertaking two electives, and those without such a background can obtain certification by utilizing four electives.
The CMA Program
The Certified Management Accountant (CMA) qualification is available to both accountants and non-accounting managers who are interested in gaining advanced knowledge in the strategic management information and performance reporting area.
Accountants who wish to obtain CMA certification undertake two advanced elective units in a university MBA programme: subjects equivalent to the 'Strategic Cost Management' and 'Strategic Business Analysis' subjects of the CMA program.
Those without an accounting background, who are nevertheless interested in obtaining a professional qualification in the area, are able to undertake the above CMA program after they first complete a 'conversion' program of 4 coursework units, two of these being core subjects in most MBAs, i.e. the Accounting and Corporate Finance subjects.
In addition these students will need to do two further electives, Financial Statement Analysis and Managerial Accounting. On the completion of this 'conversion' program, these students will also undertake the advanced units required by all students prior to certification.
Shown below, is a typical example of the accreditation that ICMA members obtain in University MBA programs :
MBA students with or without an accounting background, have an opportunity of selecting their electives in such a manner as to satisfy the educational requirements of the Institute of Certified Management Accountants (ICMA). Students without an accounting background need to do all subjects in elective groups 1 and 2, while accountants need only to do those in group 2.
The electives are as follows :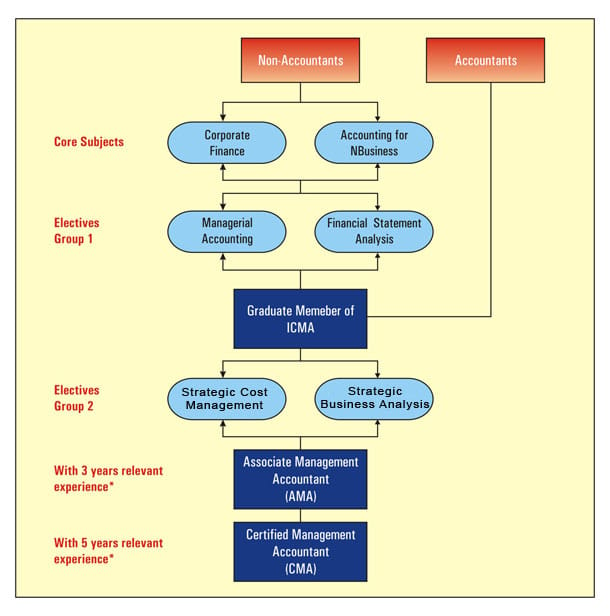 * Relevant experience in management accounting is broadly defined to include the gaining of experience in the provision of information in a wide range of managerial functions including costing, pricing, marketing, strategy, financial analysis, logistics, information systems, environment, social and governance (ESG), strategic audit, etc.