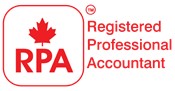 The Registered Professional Accountant (RPA) is a Canadian accounting designation granted by the Society of Professional Accountants of Canada (SPAC). The designation requires passing a set of four exams including Taxation, Accounting, Finance and Auditing and a completion of University or College courses set by the Society. The RPA designation is recognized by the Ontario Civil service, Ministry of Education and Training Ontario and Management Board of Cabinet of Ontario for employment purposes.
ICMA's CMA members will be admitted as RPA members of SPAC after completing a recognized Canadian Income Tax course. These courses can be completed at a Canadian Community College or a Canadian University.
SPAC's RPA members can be admitted as certified members (Certified Management Accountants) of ICMA after completing the CMA program, consisting of 2-subject as follows: (1) Strategic Cost Management and (2) Strategic Business Analysis. The CMA program can be undertaken at an Accredited University; or Recognised Provider Institution or Online in face-to-face, online and Zoom seminar modes.
Fees (for SPAC Members who wish to be CMAs):
Amount
Units/ Subjects
TOTAL
 
Application Fee
$99
1
$99
Joining Fee
$198
1
$198
CMA Exam Fees
$55
2
$110
CMA Preparation Course – by Recognised Provider
Pricing Differs by Provider
CMA Preparation Course – by Online 2-Subjects
$800
2
$1,600
Annual Membership Fees
See website for current fees
Enquiries:
For SPAC membership: info@rpacanada.org
For ICMA (Australia): info@cmaaustralia.edu.au